RUCKUS Smart Positioning Technology (SPoT)

Industry's Most Flexible Smart Wi-Fi Positioning Service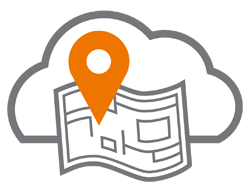 Sorry, this product is no longer available, please contact us for a replacement.
Overview: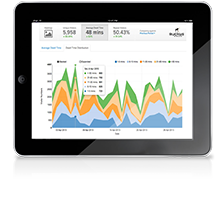 RUCKUS Smart Positioning Technology (SPoT) combines unique advantages including options for public cloud-based services or a locally hosted VM, and a choice of location metrics that best fits a business' needs. Enterprises or Managed Service Providers can use SPoT APIs to incorporate location data into their own applications. A robust ecosystem of partners provides additional leverage of SPoT for applications in retail, transportation, education, and other vertical markets.
SPoT comes in two levels of service:
SPoT Point: detects client locations in real-time through drop-pin analytics, with a range of 5-10 meters at 80% confidence. SPoT Point is well suited for high-density deployments.SPoT Presence services provide venues with low access point density with footfall analytics and device positioning at proximity accuracies.
SPoT Presence: uses proximity analytics to detect overall number of devices location to the nearest AP. SPoT Presence is a cost-effective solution with location analytics that is ideal for smaller venues with fewer APs.
Both versions of SPoT include Engagement APIs- a set of APIs that enable RUCKUS Ecosystem Partners to create a new generation of mobile applications and location intelligent features. Through these joint solutions, enterprises will be able to locate wifi clients, send targeted information, and analyze marketing effectiveness.
RUCKUS SPoT can be purchased as a cloud-based subscription, or as Virtual SPoT, a virtualized instance deployed on-premise with no recurring costs. Virtual SPoT works on VMWare ESXi to deliver Point or Presence location features from Enterprise or Managed Service Provider data centers.
Benefits:
Retail
Analyze marketing and merchandising effectiveness, shopper trends, and improve customer engagement.
Hospitality
Improve customer satisfaction with device features such as auto check-in, way-finding, and instant amenity promotions.
Transportation Hubs
Hubs Enhance the traveller experience by improving venue efficiency and sub-zones via real-time heat maps, statistical foot-fall and dwell-time data.
Shopping Malls
Identify areas of heavy usage, improve traffic flow, engage customers with way-finding and contextual coupon serving.
Healthcare
Accurate location data provides asset tracking, indoor navigation, and personnel and patient locations.
Education
Track assets such as tablets, laptops, and smart phones. Enhance the student experience by having automated classroom attendance based on location.
How it Works:
Using RF fingerprinting, RUCKUS SPoT is capable of better pinpointing the location of devices, depending on the number and density of access points used.

SPoT Key Advantages: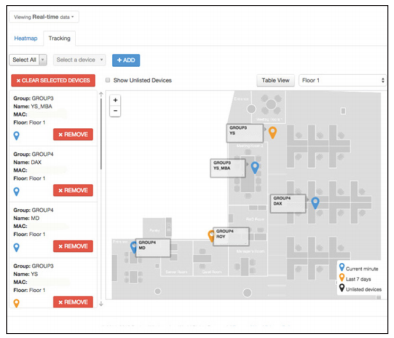 Virtually unlimited scale for device positioning
Unlimited scale for device positioning
- True cloud architecture allows large deployment scalability
True real-time positioning
- Dynamically select update intervals to allow up to per-second positioning
Utilizes probe and data packets for more accurate location
Detect associated and unassociated WiFi devices
Multi-venue support from a single dashboard
Easy deployment
- Built-in mapping, mobile app for on-site provisioning and testing, minimal configuration on the controller
SPoT Tracker
- Quickly find the position of your Wi-Fi assets
- See last known position of Wi-Fi assets up to 7 days back
- See position of foreign Wi-Fi devices
Create Your Own Map (CYOM)
- Simple Mapping tool to create and edit floor plans
Mac Address Exclusion
- To exclude resident WiFi devices from Location analytics
Specifications:
RUCKUS SPoT Features and Supported Platforms
Features and Supported Platforms

All ZoneDirector and SmartZone platforms (SZ100, SCG200, vSZ)
All ZoneFlex 802.11n/ac APs supported
Min OS version Supported: ZoneDirector 9.8 or SmartZone 3.0

SPoT Location Engine (cloud-based)

Web scale service running in the cloud
Cloud scaled to support limitless venues and client devices
Secure connectivity to downlink ZD/AP
Secure RESTful API support for north-bound and south-bound ecosystem solution integration
Enhanced Accuracy by client RSSI and venue RF fingerprinting
Engine algorithms are enhanced continuously to improve accuracy and efficiency

SPoT Point
Has 5-10 meter accuracy with 80% confidence
SPoT Presence
Displays clients positioned to the nearest AP. Heat map will appear as colored spots around the AP.
Virtual SPoT

Uses VMWare Vsphere version 5.x or higher
Virtual SPoT is dependent on user hardware. It supports multiple venues with one Virtual SPoT instance
Secure connectivity to downlink controller and AP
Secure RESTful API support for north-bound and south-bound ecosystem solution integration
Both SPoT Point and Presence available for user selection

Analytics Features

Footfall traffic visualization via heat map, by zone, floor, or venue
View hourly, daily, weekly, and monthly data up to 30 days with Presence, 90 days with Point.
Real time heat-map (per-minute, auto-refreshed) and total footfall counter
Real-time Wi-Fi asset tracker
Repeat versus new device counter
Repeat count distribution
Average dwell time and distribution

Supported APIs

Venue, zones, floors
Wi-Fi client location data, timestamp, client MAC address, zone info, in/out
APIs for all the analytics reports in SPoT Dashboard

Mapping of Venue

Maps can be created by using any map image (jpg, jpeg, and png format)
Create Your Own Maps allows for simple map creation and map updating. Maps can be created in minutes

Calibration of Venue
Optional one-time calibration of venue is available to train the location engine for higher location accuracy calculation. This optional process is completed by the free RUCKUS SPoT mobile app for Android and iOS devices.
Security and Privacy

All data is encrypted end-to-end: south-bound between controller/AP and SPoT engine, and also between SPoT engine and analytics/mobile app APIs.
Customer has option to hash the PII data (MAC address).
Cloud Service
Cloud service hosted by world-leading IAAS vendors.
Data center presence across the world.
Pricing Notes:
Pricing and product availability subject to change without notice.
CommScope RUCKUS Products
RUCKUS Virtual Smart Positioning Technology (vSPoT)
RUCKUS Virtual Smart Positioning Technology (vSPoT) Base Softeware Platform as a Virtual Appliance, 1 Instance License, Perpetual
#L09-VSPT-WW00
Our Price: $995.00
RUCKUS Virtual Smart Positioning Technology (vSPoT) AP Management License for 1 AP, Perpetual
#L09-0001-VSPT
Our Price: $100.00
WatchDog Support for vSPoT
RUCKUS WatchDog Support for vSPoT, 1 Year
#S01-VSPT-1000
Our Price: $208.95
RUCKUS WatchDog Support for vSPoT AP License, 1 Year
#S01-0001-1LSP
Our Price: $21.00
RUCKUS WatchDog Support for vSPoT, 3 Year
#S01-VSPT-3000
Our Price: $417.90
RUCKUS WatchDog Support for vSPoT AP License, 3 Year
#S01-0001-3LSP
Our Price: $42.00
RUCKUS WatchDog Support for vSPoT, 5 Year
#S01-VSPT-5000
Our Price: $626.85
RUCKUS WatchDog Support for vSPoT AP License, 5 Year
#S01-0001-5LSP
Our Price: $63.00
WatchDog Support Renewal for vSPoT
RUCKUS WatchDog Support Renewal for vSPoT, 1 Year
#S21-VSPT-1000
Our Price: $199.00
RUCKUS WatchDog Support Renewal for vSPoT AP License, 1 Year
#S21-0001-1LSP
Our Price: $20.00
RUCKUS WatchDog Support Renewal for vSPoT, 3 Year
#S21-VSPT-3000
Our Price: $398.00
RUCKUS WatchDog Support Renewal for vSPoT AP License, 3 Year
#S21-0001-3LSP
Our Price: $40.00
RUCKUS WatchDog Support Renewal for vSPoT, 5 Year
#S21-VSPT-5000
Our Price: $597.00
RUCKUS WatchDog Support Renewal for vSPoT AP License, 5 Year
#S21-0001-5LSP
Our Price: $60.00