RUCKUS SmartZone 144

Most scalable midsize campus and branch wired and wireless network controllers
CommScope RUCKUS Products
RUCKUS SmartZone 144 Series
Ruckus SmartZone 144 Controller Appliance with 4x10GigE and 4 GigE ports, 90-day temporary Access to licenses.
*Requires Purchase of at least 1 Year of Support
#P01-S144-US00
Our Price: $9,195.00
More pricing below, click here!
RUCKUS SmartZone 144 Overview:
The RUCKUS SmartZone 144 (SZ144) supports distributed networks, automates repetitive IT work, and is flexible and future-ready with scalable wired and wireless network management capabilities.
SmartZone 144 manages up to 120,000 clients, up to 6,000 RUCKUS access points, and 1,200 RUCKUS switches from a single cluster.
It is ideal for any midsize enterprise that must support hyper-distributed networks that connect multiple campuses and networks of remote home offices. Using its native hybrid (centralize / distributed) network architecture, a single SZ144 placed within a centralized data center can manage up to 6,000 remote sites.
And unlike conventional wired and wireless systems that are complex and cumbersome to learn, manage and deploy, the SZ144 is designed to reduce an administrator's workload by streamlining repetitive IT tasks with visual client troubleshooting tools, and zero-touch discovery, provisioning and policy configuration of new APs and switches.
To keep organizations competitive, their network must be always on, flexible, and future-ready. The SZ144 supports an always-on network with intra-cluster, intercluster failover aiding disaster recovery best practices. Features like multi-standards API support, OpenRoaming, network health metrics keeps the network flexible. Additionally, containerization migration, the move to microservices, and dynamic scaling keeps SmartZone networks future-proof.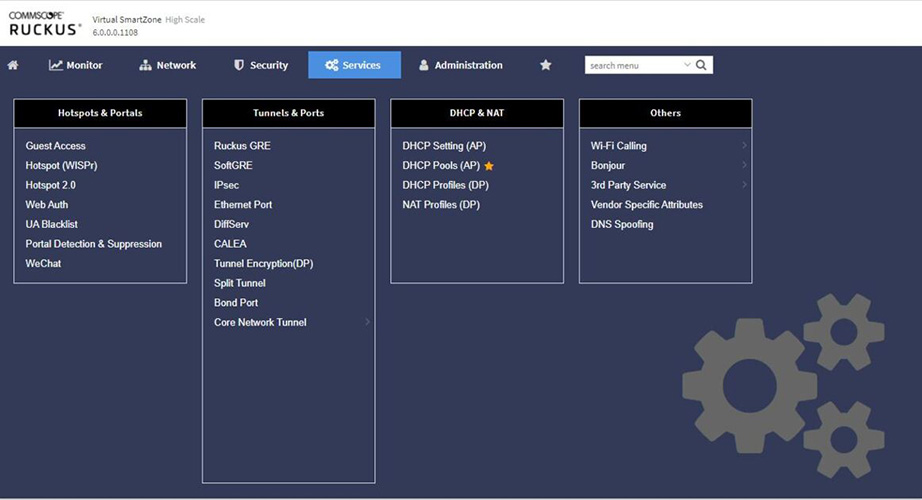 RUCKUS SmartZone New Menu
Pricing Notes:
Pricing and product availability subject to change without notice.
CommScope RUCKUS Products
RUCKUS SmartZone 144 Series
Ruckus SmartZone 144 Controller Appliance with 4x10GigE and 4 GigE ports, 90-day temporary Access to licenses.
*Requires Purchase of at least 1 Year of Support
#P01-S144-US00
Our Price: $9,195.00
RUCKUS SmartZone 144 Support Parts
End User WatchDog Support for SmartZone 144 Controller Appliance, 1 Year
#S01-S144-1000
Our Price: $1,678.95
End User WatchDog Support for SmartZone 144 Controller Appliance, 3 Years
#S01-S144-3000
Our Price: $3,357.90
End User WatchDog Support for SmartZone 144 Controller Appliance, 5 Years
#S01-S144-5000
Our Price: $5,036.85
End User WatchDog Support Per SZ/(v)SZ AP, 1 YR
#S01-0001-1LSG
Our Price: $21.00
End User WatchDog Support Per SZ/(v)SZ AP, 3 YR
#S01-0001-3LSG
Our Price: $45.15
End User WatchDog Support Per SZ/(v)SZ AP, 5 YR
#S01-0001-5LSG
Our Price: $60.90