Primary Education

Wi-Fi as Reliable as the Lights in Your Classroom
The classroom of tomorrow promises an amazing education. Blended learning, flipped classrooms, digital curriculum and other modern learning models can better engage students and help educators be more effective. But they also create new challenges for schools and their overtaxed IT teams.
Instead of lesson plans depending solely on skilled teachers, they depend on consistent, reliable connectivity to school networks for access to educational resources.
It's enough to make school and IT leaders feel like they're a grade or two behind. RUCKUS can help. We power the connected modern classroom with grade-A Wi-Fi and edge switching performance coupled with simple, market-leading secure onboarding and policy management.
Broadband & Network Capacity
According to the Consortium for School Networking (CoSN), the top priority for Primary Education IT Administrators is Broadband and Network Capacity. IT Administrators are challenged by more devices coming onto the network and new applications that stretch the limits of aging infrastructure.
A wireless and wired network that scales to handle the device growth and meet the demands of the digital learning environment is the cornerstone of solid learning foundation. Choose a network that grows with your districts' needs and budget constraints. With Ruckus, you can provide the highest device density per AP, wired network scaling capabilities, flexible management infrastructure and easiest device onboarding available.
Student Data Privacy
As of June 2016, 49 of 50 US States had draft legislation or enacted laws around the need to protect student data. Primary education IT administrators and superintendents are under enormous pressure to ensure that student data is protected and used in accordance with applicable local, state and federal laws.
By examining your network and sensitive repositories to see where student data lives, you can begin to take the necessary steps to protect it. RUCKUS primary education solutions can provide secure device authentication, user policy definitions, safe mobile computing environments, and encrypted communication to Student Information Systems that live on-premises, in the cloud, or on the fly.
Digital Learning Transition
According to the 2016 CoSN IT Leadership Survey, 90% of K-12 IT administrators expect their curricula to be at least 50% Digital in the next 3 years. With this transition to a collaborative, blended learning environment, the network is no longer a nice to have, but depended on to be always available and elevate the classroom experience for teachers and their students.
RUCKUS solutions provide a continuous, non-stop wired and wireless networked learning environment that adapts to the needs of instructional technology applications and its users, enabling flexible learning spaces for STEM lessons, screen casting, flipped classrooms, online assessments or even virtual reality field trips.
Automated, Self-Service Wi-Fi Onboarding
In years past, K-12 students entered computer labs and then exited, leaving the tools behind. Today, students walk in with devices and leave with those same devices to use at night. Decades of computer-centric thinking are giving way to connectivity-centric thinking – leading to a BYOD phenomenon that allows students to have access to educational tools around the clock.
Wi-Fi in education is about more than just accessing the network. Whether adopting a BYOD approach or an IT-based one-to-one initiative, the transformation to an unmanaged set of network users presents a new challenge to provide safe, predictable connectivity. However, the ultimate goal of improving students' educational experience must not be compromised.
Secure onboarding solutions allow K-12 institutions to extend wireless access to a broad spectrum of users, devices and use cases without a phone call or a trip to the support desk. This happens by providing automated, self-service onboarding for a wide array of devices and determining the appropriate policy for each user and device.
There are many benefits of deploying secure onboarding in K-12, including:
Eliminate the management and security headaches related to pre-shared keys (PSK).
Eliminate the inconvenience and security risks of captive portal logins.
Automate the device onboarding for all permitted users, including students, staff, contractors and visitors.
Ensure users get securely connected, not just configured.
Automate the enforcement of policies and access controls, including AUP, authentication and network privileges.
Provide 'gold standard' WPA-Enterprise encryption without needing to be a certified security expert
Track information related to users, devices and application policies for all wired and wireless connections.
RUCKUS offers a leading solution to realize all of the above benefits of secure onboarding. With Cloudpath ES you can leverage your existing Wired or Wi-Fi infrastructure to ensure that users are easily provisioned and connected to your secure network across a wide range of laptops, phones and tablets.
Certificates for Chromebooks
Chromebooks are beloved in schools for being simple and secure. With Cloudpath ES, you can deploy the gold standard in security and certificates to Chromebooks in an automated manner.
Whether issuing from an existing Microsoft CA or through the built-in PKI, Cloudpath ES ensures every device receives the appropriate certificate without IT overhead. Once installed, the certificate is available for a wide array of uses, including certificate-based Wi-Fi, web authentication, and more.
For managed Chromebooks, Cloudpath ES deploys both user and device certificates, which are TPM-backed (burned into hardware for maximum protection). For unmanaged Chromebooks, Cloudpath ES provides self-service, automated installation of the certificate along with related services, such as WPA2-Enterprise WiFi using EAP-TLS.
Campus Coverage: Here, There, Everywhere
K-12 school campuses range from one large, vintage-built location to a more modern multibuilding construction. So, getting good Wi-Fi coverage to every nook and cranny of each classroom has been a real challenge. RUCKUS ZoneFlex products deliver the best possible Wi-Fi coverage using high-gain directional antenna arrays. Patented BeamFlex™ technology directs signals toward associated clients, picking the best performing path and constantly routing signals around interference. ZoneFlex delivers better coverage using fewer APs and far fewer dollars. Schools can now take Wi-Fi to places where it's never been before — simply, easily and affordably.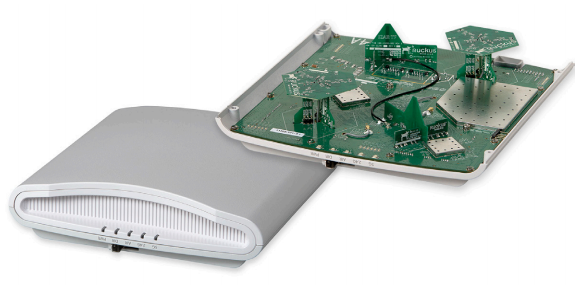 Patented smart antenna arrays in every access point provide longer range and more reliable Wi-Fi connections, requiring fewer APs than competitive alternatives.
Secure and Automated Device Enablement
RUCKUS Cloudpath bridges the gap between enterprise-grade security and personal devices to create a secure and simplified Wi-Fi experience that allows BYOD to be adopted in a scalable, secure, and user-friendly manner. Cloudpath utilizes standards-based security to work with existing infrastructure and provide full functionality with any Wi-Fi solution. Cloudpath solutions delivers secure, reliable connectivity around the globe. A growing need across education is the ability to easily and securely on-board many different devices. Cloudpath provides industry-first support for Chromebooks, the fastest growing in-classroom platform.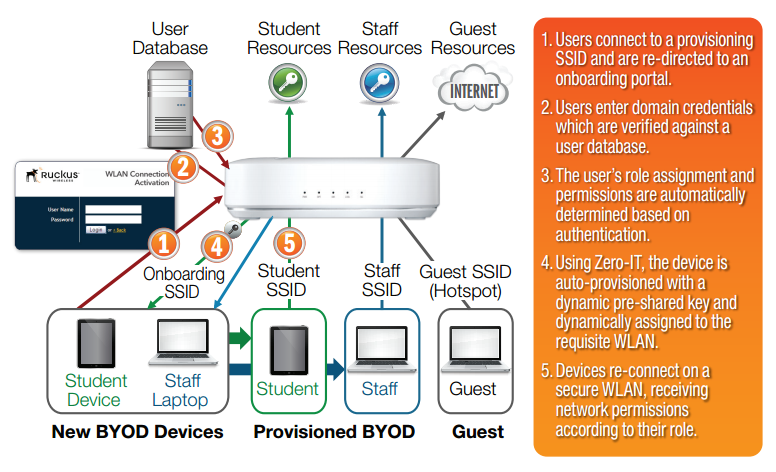 No Ethernet? No Problem
For many educational institutions, Ethernet is not ubiquitous. What about portables, cafeterias, auditoriums, assembly halls and stadiums? Unlike other WLAN solutions, the RUCKUS ZoneFlex system employs SmartMesh Networking, allowing schools to easily add Wi-Fi by simply plugging APs into a power outlet. This eliminates adding additional Ethernet cabling and unnecessary expenses. An advanced smart antenna array ensures unprecedented reliability for the mesh backbone, minimizing packet loss, steering signals over the fastest paths, and increasing range between mesh nodes.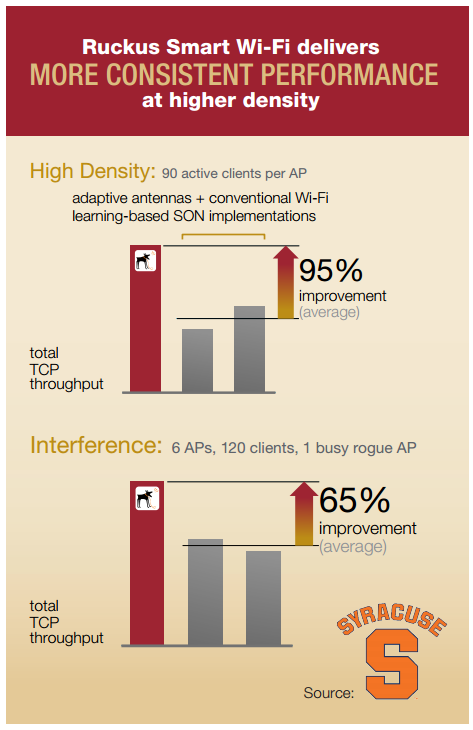 Smart Educators are choosing RUCKUS smart Wi-Fi Solutions to solve challenges and raise the curve
| Problem | RUCKUS Smart Wi-Fi Solution |
| --- | --- |
| Spotty Coverage | High-gain smart antenna system extends Wi-Fi signals up to twice as far, helping ensure complete coverage and requiring fewer APs per school |
| Unstable Wi-Fi connectivity | Patented adaptive antenna technology within every RUCKUS Smart Wi-Fi access point ensures stable client connectivity and mitigates packet loss to ensure the highest performance possible |
| Simplified Wi-Fi Onboarding and Security | Certificate-based security to ensure that authorized devices onboard simply and securely, with the appropriate level of access. |
| Interactive classroom enablement | Smart QoS automatically prioritizes low-latency voice and video traffic to ensure clear sound and smooth video delivery |
| Controllers in each school | Distributed forwarding architecture enables a single centrally located network operation center to manage the entire Wi-Fi infrastructure without sitting in the data path |
| Guest management | Intuitive, browser-based facility lets staff generate a unique and timed Wi-Fi guest pass in less than 60 seconds |
| Complex installation & management | Entire WLAN configures in minutes; APs self-configure by automatically discovering the controller. RUCKUS Smart Wi-Fi systems can be remotely configured and managed |
Smarter Wi-Fi optimized for IP-based video
Video has become an essential application within K-12 environments. IP-based video cameras and streaming IP-based video content over Wi-Fi is now taking center stage. Our heritage as a company has been focused on supporting IP-based video over Wi-Fi. Through the use of our patented adaptive antenna array and heuristics-based traffic classification and prioritization, the RUCKUS ZoneFlex system delivers flicker-free video to laptops, tablets, and even televisions. Our products and technology have been uniquely designed to support latency-sensitive traffic types such as streaming HD video.
Eliminate recurring broadband costs with point-tomultipoint, long range Wi-Fi
Many schools pay exorbitant costs for running fixed broadband lines to each school or site. New 5 GHz 802.11n high-performance bridges effectively eliminate these recurring costs — saving schools tens of thousands of dollars each year. A pair of Wi-Fi bridges can deliver up to 190 Mbps at 1.5 kilometers and offers performance up to 50 Mbps at 10 km (LoS).
RUCKUS Smart Wi-Fi Delivers Education's Most Flexible Deployment Options
Interactive classrooms, BYOD, VoIP, IP VOD, IPTV Streaming, Guest Networking, Staff Administration, Outdoor Events