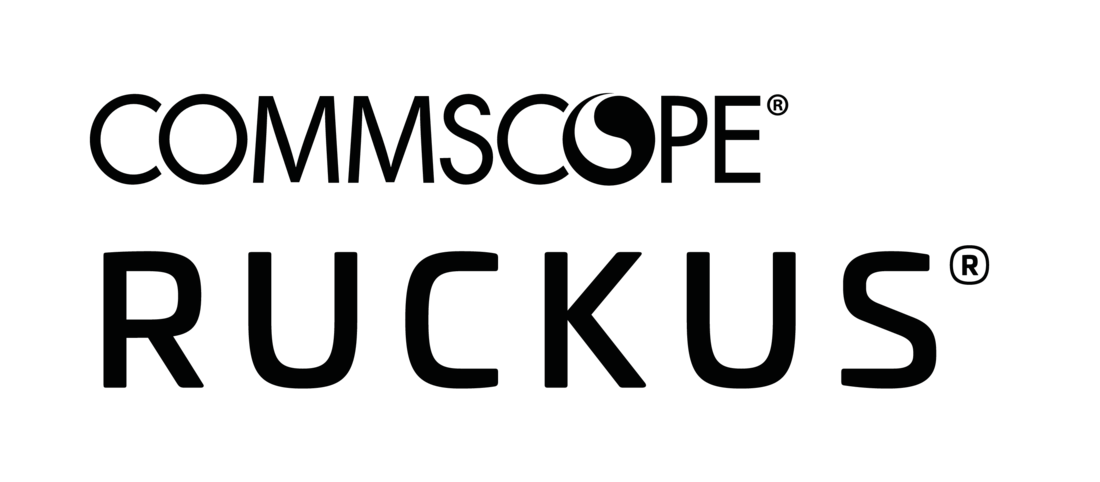 Retail

Connect Your Store to Increase Revenue per Square Foot
The smartphone: shoppers today don't leave home without it. They're using them to compare prices and find product information. They're communicating with friends and family in your store. And they're expecting you to provide Wi-Fi to keep them connected.
You can look at all this as one more hassle for your business. Or, can see it for what it is: a new way to engage more deeply and profitably with your customers.
Ruckus Smart Wi-Fi can help you to operate your store more efficiently and to cash in on the connected consumer by influencing your customers at the point of purchase.
Increase Your Store's Productivity
Good things may come to those who wait, but your customers don't want to hear it—especially when it's time to check out. With secure and reliable wireless connectivity, you can provide faster, more personalized service and run your store more efficiently.
Use handheld devices instead of fixed registers to check inventory, place an online order, even complete a sale from anywhere in the store. Securely connect multiple devices (alarms, video cameras, thermostats, point-of-sale systems) to the Wi-Fi network, where you can control them centrally, and even remotely.
Deliver a Better Shopping Experience
Fast, engaging service demands a personal touch. But if you're an independent retailer, you know how hard it is to find the right staffing balance. Ruckus can help you use Wi-Fi to get more from your space and your people.
Empower shoppers to access product information and store services themselves, from their smartphones, when salespeople are working with other customers. Gather insights about shopper behaviour in real time to find out what's working and what isn't. Use footfall analytics to optimize your store layout and turn your venue into a must-visit destination.
Monetize the Wi-Fi Experience
Your customers are going to use their smartphones whether you like it or not—often to compare your prices with competitors. When they do it over cellular, you're cut out of the equation. But when they're using your Wi-Fi, you now have a captive audience that you can connect with and learn from.
Use your smart Wi-Fi network to better understand your customers: their identities, email addresses, social connections, even demographics information. Wi-Fi connections also provide opportunities to push targeted promotions—both inside the store and on an ongoing basis—to increase their basket and their loyalty.
Complete Coverage: Here, There, Everywhere
Retail stores range in size from small, one-room operations to huge superstores. They require wireless connectivity everywhere, from the sales floor, to the warehouse and even the parking lot or sidewalk outside. Getting reliable and complete Wi-Fi coverage can be expensive and time-consuming. The Ruckus ZoneFlex family of products uses patented BeamFlex™ technology that focuses Wi-Fi signals to ensure the best possible Wi-Fi coverage. ZoneFlex delivers two to four times the coverage and higher throughput using fewer APs, costing less money and enabling faster deployment.
Location Based Services
The explosion of smartphones, tablets and other Wi-Fi capable devices opens the door to new customer-facing and operational applications to improve the in-store experience. Ruckus Smart Positioning Technology (SPoT) service, the industry's first Cloud-based Smart positioning location-based service (LBS), gives service providers and enterprises the ability to deliver a wide-range of value added services over Ruckus Smart Wi-Fi networks. Whether you want anonymous traffic analysis to better understand patterns and execute A/B marketing tests, or you want to deliver an opt-in application to provide differentiated services linked to a loyalty program or promotion, Ruckus SPoT seamlessly and securely provides network-based data to drive the included SPoT analytics dashboard or to enable personalized mobile applications. SPoT lets retailers apply online analytic sophistication to the in-store environment.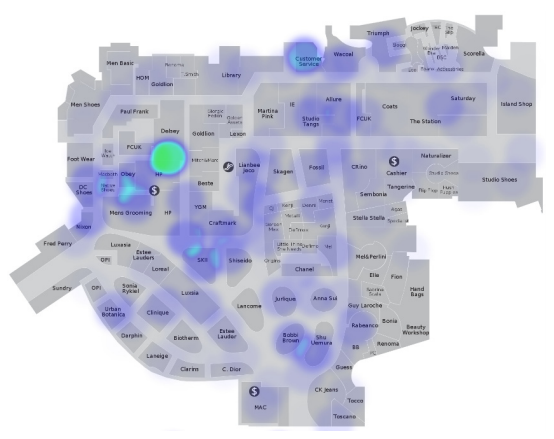 Heatmaps and other location analytics can help identify new marketing and operational improvement opportunities
Dealing With High Density
The critical test for in-store Wi-Fi occurs at peak times, such as during the holidays or back-toschool season. Ruckus BeamFlex technology provides higher performance that gets users on and off the Wi-Fi network quickly, increasing usable capacity. Additional capabilities such as client load balancing, airtime fairness, band steering, and per user rate limiting ensure hundreds of users can be served by each access point while delivering reliable and fast Wi-Fi connectivity
In-Store Applications
Retailers are increasingly leveraging technology to enhance the In-store experience and improve their operating efficiencies.
Examples include:
Digital signage applications showing product and store promotions
IP video for security or for detailed customer traffic analysis
Mobile PoS applications being run from smartphones and tablets. In addition to eliminating lines and enabling store staff to spend more time with customers, this frees up additional space for merchandise and other displays.
VoWLAN to enable store associates to stay connected even while on the floor, improving customer service and productivity
Inventory tracking using bar-code scanners
Ruckus Smart Wi-Fi was initially designed specifically to optimize and simplify wireless video transmission. It features heuristicsbased traffic classification and prioritization that automatically recognizes voice and video traffic and applies the appropriate priority and queueing to ensure clear voice calls and flicker-free HD video. The combination of high throughput, pervasive coverage, and automatic traffic prioritization based on application type delivers optimal performance for any mobile or wireless application.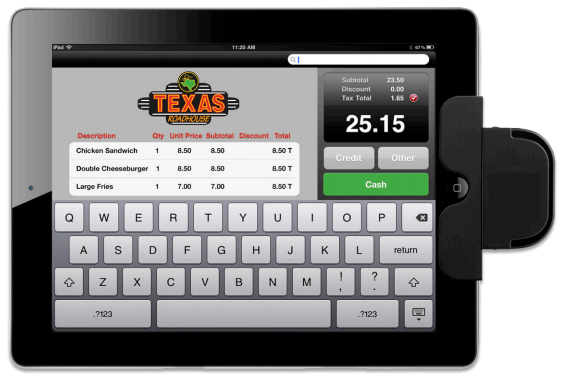 Smarter Wi-Fi optimized for IP-based video
Video has become an essential application within retail environments. IP-based video cameras and streaming IP-based video content over Wi-Fi is now taking center stage. Our heritage as a company has been focused on supporting IP-based video over Wi-Fi. Through the use of our patented adaptive antenna array and heuristics-based traffic classification and prioritization, the Ruckus ZoneFlex system delivers flicker-free video to laptops, tablets, and even televisions. Our products and technology have been uniquely designed to support latency-sensitive traffic types such as streaming HD video.
Smart retailers are choosing Ruckus Smart Wi-Fi Solutions to solve challenges and raise the bar
| Problem | Ruckus Smart Wi-Fi Solution |
| --- | --- |
| Spotty Coverage | High-gain smart antenna system extends Wi-Fi signals up to twice as far, helping ensure complete coverage and requiring fewer APs per school |
| Unstable Wi-Fi connectivity | Patented adaptive antenna technology within every Ruckus Smart Wi-Fi access point ensures stable client connectivity and mitigates packet loss to ensure the highest performance possible |
| Disparate WLAN systems | Indoor and outdoor APs mesh together and are managed centrally by the ZoneDirector controller |
| Too many APs to manage | Requires one-third to one-half the number of APs over conventional omnidirectional Wi-Fi products |
| No multimedia support | Provides up to 32 discrete WLAN networks that can be used to concurrently support IP-based video, voice, and administrative applications |
| Guest management | Intuitive, browser-based facility lets staff generate a unique and timed Wi-Fi guest pass in less than 60 seconds |
| Complex installation and management | Entire WLAN configures in minutes; APs self-configure by automatically discovering the controller. Ruckus Smart Wi-Fi systems can be remotely configured and managed |
Strong Wi-Fi Security, Simple to Administer
Stores need strong security to separate operational and security usage from shopper-facing promotions and services. Ruckus supports standard 802.1X security, making it fully PCI-compliant, and can provide simple, secure connections for multiple user types based on their authenticated roles and device types. Store Associates can log in with appropriate credentials and be placed into the secure 802.1x WLAN. Shoppers who, for instance, opt-into a loyalty program, may be given a password for a secure, premium network connection, and other shoppers can connect automatically to a guest network. Each user can be automatically configured (or not) with appropriate security and access policies with no IT Involvement using Ruckus' comprehensive BYOD onboarding capabilities.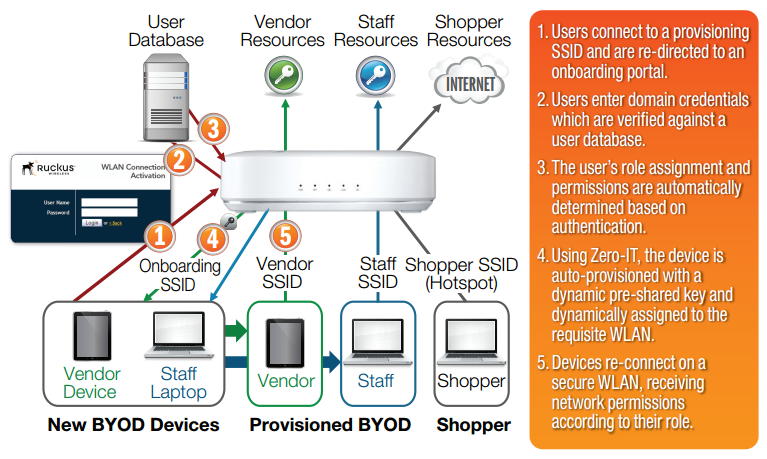 No Ethernet? No Problem
For many retail establishments, Ethernet is not ubiquitous. Unlike other WLAN solutions, the Ruckus ZoneFlex system employs SmartMesh Networking, retail outlets to easily add Wi-Fi by simply plugging APs into a power outlet. This eliminates adding additional Ethernet cabling and unnecessary expenses. An advanced smart antenna array ensures unprecedented reliability for the mesh backbone, minimizing packet loss, steering signals over the fastest paths, and increasing range between mesh nodes.