RUCKUS ZoneFlex T710

Dual-Band 4x4:4 802.11AC Wave 2 Outdoor Smart Wi-Fi Access Points
Sorry, this product is no longer available, please contact us for a replacement.
More pricing below, click here!
Overview:
Ruckus' High Capacity, High Performance Four-Stream 802.11ac Wave 2 Outdoor AP
The ZoneFlex T710 combines RUCKUS patented technologies and best-in-class industrial grade design with next generation of 802.11ac features to deliver industry-leading Wi-Fi performance, reliability and coverage for challenging high density outdoor deployments.
Featuring BeamFlex+ adaptive antenna technology, the ZoneFlex T710 offers a substantial increase in performance and range by optimizing antenna coverage on a per client, per transmission basis. BeamFlex+ additionally mitigates co-channel interference by directing Wi-Fi signals where they are needed instead of towards neighboring access points. The T710's BeamFlex+ adaptive antenna system is also equipped with dual polarization antennas, allowing the access point to adapt to the physical orientation of client devices and maximize uplink performance.
With throughput capacities of 800 Mbps (2.4GHz) and 1733 Mbps (5GHz), the ZoneFlex T710 supports the highest available throughput for Wi-Fi clients. 802.11ac Multi-User MIMO (MU-MIMO) support allows the T710 to simultaneously transmit to multiple MU-MIMO capable devices, drastically improving airtime efficiency, overall throughput, and availability. The T710 is compatible with a wide array of MU-MIMO, SU-MIMO and legacy Wi-Fi clients.
The ZoneFlex T710 can function either as a standalone AP or as part of centrally managed Wireless LAN.
The ZoneFlex T710 is specifically designed with industrial-grade features such as GPS and secure image download. Also included is a SFP fiber interface that enables seamless connectivity to a fiber backhaul with no additional converters. Via Ethernet connections, the T710 supports Link Aggregation Control Protocol (LACP) to optimize backhaul throughput.
The ZoneFlex T710 is purpose-built to deliver unparalleled performance, capacity and coverage in dynamic outdoor environments that are characteristic of high density utilization and interference.
Ideal use cases include: public outdoor hotspots, smart cities, outdoor coverage for enterprise and schools where support for data intensive streaming multimedia applications like HD IP video is imperative.
Patented BeamFlex+ Technology Extends Signal Range, Improves Reliability of Client
The ZoneFlex T710 integrates patented software-controlled adaptive antennas that delivers additional signal gain per radio chain. As BeamFlex+ adapts to client locations and antenna polarity, the smart antenna technology optimizes the RF energy toward client on a per packet basis. This allows for substantial performance improvement and a reduction in packet loss from the ability to automatically mitigate interference and obstacles. BeamFlex+ with PD-MRC (polarization diversity) ensures the T710 listens in all polarizations simultaneously. This results in significant receive signal gain from mobile devices with weak transmitters.
Multi-User MIMO (MU-MIMO)
802.11ac MU-MIMO allows the ZoneFlex T710 to transmit multiple spatial streams to multiple client devices simultaneously, increasing the total throughput and capacity of the wireless network. The ZoneFlex T710 is able to provide up to three clients each their own dedicated full-bandwidth channel using an MU-MIMO technique known as spatial reuse. This capability enables several benefits.
Efficient use of available spectrum effectively multiplies the total capacity of a network, allowing it to meet the increasing data demand driven by the proliferation of mobile Wi-Fi clients and data-hungry applications and uses such as high-definition video streaming. Additionally, MU-MIMO does not require client devices to time-share connections with other clients on the network as in legacy Wi-Fi, which means each device experiences less wait time and makes the network more responsive overall. Even legacy clients benefit from MU-MIMO because of the increased RF efficiency; more capacity remains to support non-Wave 2 clients.
Advanced WLAN Applications
When used with the RUCKUS Smart WLAN management systems, the ZoneFlex T710 supports a wide range of value-added applications such as guest networking, Dynamic PSK, hotspot authentication, wireless intrusion prevention and many more. WLANs can also be grouped and shared by specific APs. In a centrally managed configuration, the ZoneFlex T710 works with various authentication servers including AD, LDAP, and RADIUS.

Features:
Integrated BeamFlex+ Smart Antenna Technology
Omni directional for very high-density deployments in arenas, stadiums, airports, etc. or can be fitted with external antennas
BeamFlex+ support for up to 4 dB of signal gain and 10 dB of interference mitigation in addition to the antenna gain
Internal antenna for a minimal form factor, which is essential in many deployments
Polarization Diversity with Maximal Ratio Combining (PD-MRC) ensures reliable connectivity for mobile devices
Hardened enclosure for harsh outdoor environments
IP-67 water and dustproof plastic enclosure with flexible wall or pole mounting options.
Other Features
802.11ac Multi-User MIMO (MU-MIMO)
Concurrent dual-band (5 GHz/2.4 GHz) support
2,533 Mbps maximum PHY rate (1733 Mbps in 5GHz; 800 Mbps in 2.4GHz)
BeamFlex+ (PD-MRC) smart antenna, with support for 4,000+ unique antenna patterns enables up to 4 dB of additional gain and up to 10 dB of additional interference mitigation
Antenna options: omni-directional and 120x30 degrees sector
Unmatched Rx sensitivity down to -104 dBm
Improved Maximum Ratio Combining (MRC) for best-in-class receive sensitivity
802.11ac standard Tx Beamforming
Space Time Block Coding for increased handset performance
Low Density Parity Check (LDPC) for increased data throughput at all ranges
256-QAM support on 5GHz and 2.4GHz
Backward compatible with legacy 802.11 clients
Dedicated dual band RF monitor enabling enhanced performance while providing Zero-Wait DFS capability
2 10/100/1000 Ethernet ports
Support for LACP (Link Aggregation Control Protocol) to maximize the backhaul bandwidth using both Ethernet ports
SFP Fiber Interface providing flexibility to backhaul to fiber
AC power input (100-250 Vac, 50/60 Hz)
802.3at (PoE+) PoE Input mode of operation
802.3at PoE Output Power Sourcing Equipment (PSE) mode of operation, useful for daisy chaining and powering an additional Mesh AP or another device like an IP Surveillance Camera
IP 67 rated, -40°C to +65°C
Integrated GPS for location applications
Built in Wall or Pole mounting options for easy deployment
Either standalone or centrally managed
Secure image download – enhancing platform security
Multicast IP video streaming support
Four software QoS queues per client station
Up to 16 BSSIDs per radio with unique QoS and security policies*
WPA-PSK (AES), 802.1X support for RADIUS and AD*
Dynamic PSK*
Admission control/load balancing*
Band balancing
Captive portal and guest accounts *
* when used with management.
Benefits:
Industry's Highest Performing 802.11AC Wave 2 Standard
Transmit to multiple clients at the same time with MU-MIMO
More efficient use of the RF spectrum
Improve network efficiency & throughput even for non-Wave 2 clients
Better Reception And More Consistent Performance
Adaptive polarization diversity
Dual-polarized antennas
Enhanced DFS and Spectrum analysis capability
Reduced Wi-fi Interference
Up to 15 dB of interference mitigation
Up to 50 percent reduction in co-channel interference to neighboring APs
Statistical, real-time capacity analysis of all channels to automatically selects best performing channels
Ideal High-performance Outdoor Access Point
Fast and easy mounting to street lights, traffic controls and street furniture
Industrial-grade IP-67 hardened enclosures (-40°C to +65°C)
Smart Mesh to eliminate cost and time associated with cumbersome Ethernet drops
Flexible backhaul interfaces such as SFP Fiber and Gigabit Ethernet
Deployment: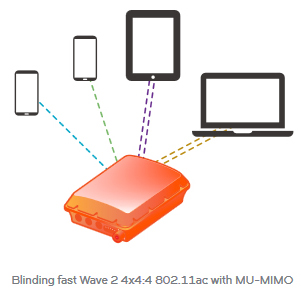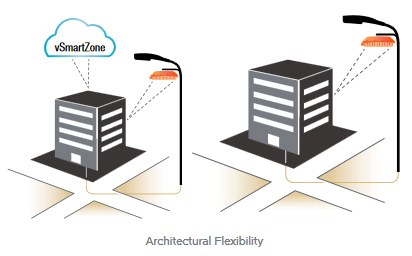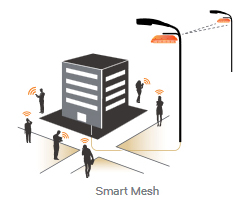 Specifications:
Learn More

Learn More

Learn More

Learn More

Learn More

Learn More

Learn More

Feature/Description

High-end Wi-Fi 6 (802.11ax) dual- concurrent AP with MU-MIMO and BeamFlex+

High-end 802.11ac Wave 2 dual concurrent AP with BeamFlex+

Mid-range 802.11ac Wave 2 dual concurrent AP with BeamFlex+

Entry-level 802.11ac Wave 2 outdoor AP series with integrated BeamFlex+ omni and sector antennas

Outdoor 4x4:4 2.4/5GHz 802.11ac Wave 2 Wi-Fi access point with DOCSIS 3.1 backhaul

Embedded 802.11ac Outdoor Wave 2 Wi- Fi AP with External BeamFlex+ Antennas

Point-to-Point / Multi- point bridge

Maximum PHY rate

2400 Mbps (5GHz)

1148 Mbps (2.4GHz)

1733 Mbps (5GHz)

600 Mbps (2.4GHz)

1733 Mbps (5GHz)

600 Mbps (2.4GHz)

867 Mbps (5GHz)

300 Mbps (2.4GHz)

1733 Mbps (5GHz)

600 Mbps (2.4GHz)

867 Mbps (5GHz)

300 Mbps (2.4GHz)

867 Mbps (5GHz)

Wi-Fi technology

802.11ax (2.4GHz, 5GHz) Wi-Fi CERTIFIED 6™

802.11ac (5GHz)

802.11n (2.4GHz)

802.11ac (5GHz)

802.11n (2.4GHz)

802.11ac (5GHz)

802.11n (2.4GHz)

802.11ac (5GHz)

802.11n (2.4GHz)

802.11ac (5GHz)

802.11n (2.4GHz)

802.11ac (5GHz)

Concurrent users

1024

512

512

512

512

512

—

Radio chains:streams

4x4:4

4x4:4

4x4:4

2x2:2

4x4:4

2x2:2

2x2:2

Antenna patterns (per band)

4,000+

4,000+

4,000+

64

4,000+

64

—

Antenna gain

Up to 3dBi

Omni: Up to 3dBi Sector: Up to 8dBi

Omni: Up to 3dBi

120 Sector: Up to 8dBi

Omni: Up to 3dBi

120 Sector: Up to 9dBi 30 Sector: Up to 12dBi

Up to 3dBi

Up to 3dBi

—

PD-MRC

Rx sensitivity (2.4/5GHz)

-103dBm

-104/-104dBm

-104dBm

-101dBm

-98/-97

-101dBm

-96dBm

ChannelFly

SmartMesh

—

Ethernet interface

1 x 1 GbE

1 x 2.5 GbE

2 x 1GbE

2 x 1GbE

1 x 1GbE

1 x 1GbE

1 x 1GbE

1 x 1GbES

USB (IoT Ready)

—

Models d, s, & n

—

Fiber interface

—

—

—

—

GPS

—

—

—

—

WLAN Control and Management

· ZoneDirector

· SmartZone

· RUCKUS Cloud

· ZoneDirector

· SmartZone

· Unleashed

· RUCKUS Cloud

· ZoneDirector

· SmartZone

· Unleashed

· RUCKUS Cloud

· ZoneDirector

· SmartZone

· Unleashed

· RUCKUS Cloud

· SmartZone

· SmartZone

· ZoneDirector

· Standalone

· Unleashed

· RUCKUS Cloud

· Unleashed Multi-Site Manager
*Wi-Fi Alliance certification in process
1 Max power varies by country setting, band, and MCS rate
2 BeamFlex+ gains are statistical system-level effects (including TxBF), translated to enhanced SINR here, and based on observations over time in real-world conditions with multiple APs and many clients
3 Rx sensitivity varies by band, channel width, and MCS rate
4 Refer to price list for current country certifications
Views: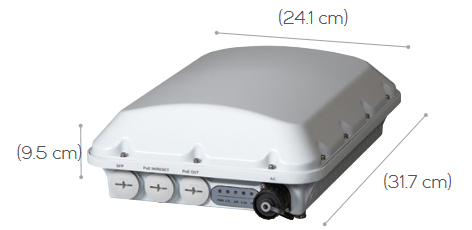 Pricing Notes:
Pricing and product availability subject to change without notice.
CommScope RUCKUS Products
Support for ZoneFlex T710 & T710-S
RUCKUS Support for ZoneFlex T710 & T710-S, 1 year
#806-T710-1000
Our Price: $441.00
RUCKUS Support for ZoneFlex T710 & T710-S, 3 year
#806-T710-3000
Our Price: $943.95
RUCKUS Support for ZoneFlex T710 & T710-S, 5 year
#806-T710-5000
Our Price: $1,257.90
WatchDog Advanced Hardware Replacement for T710 & T710-S
RUCKUS WatchDog Advanced Hardware Replacement for T710 & T710-S, 1 year
#803-T710-1000
Our Price: $189.00
RUCKUS WatchDog Advanced Hardware Replacement for T710 & T710-S, 3 year
#803-T710-3000
Our Price: $378.00
RUCKUS WatchDog Advanced Hardware Replacement for T710 & T710-S, 5 year
#803-T710-5000
Our Price: $567.00
Support Renewal for ZoneFlex T710 & T710-S
RUCKUS Support Renewal for ZoneFlex T710 & T710-S, 1 year
#826-T710-1000
Our Price: $420.00
RUCKUS Support Renewal for ZoneFlex T710 & T710-S, 3 year
#826-T710-3000
Our Price: $899.00
RUCKUS Support Renewal for ZoneFlex T710 & T710-S, 5 year
#826-T710-5000
Our Price: $1,198.00
WatchDog Advanced Hardware Replacement Renewal T710 & T710-S
RUCKUS WatchDog Advanced Hardware Replacement Renewal T710 & T710-S, 1 year
#823-T710-1000
Our Price: $180.00
RUCKUS WatchDog Advanced Hardware Replacement Renewal T710 & T710-S, 3 year
#823-T710-3000
Our Price: $360.00
RUCKUS WatchDog Advanced Hardware Replacement Renewal T710 & T710-S, 5 year
#823-T710-5000
Our Price: $540.00
WatchDog ZoneFlex T710 Accessories
RUCKUS Spare Weatherized AC Connector for T710-series, 7762-AC, 7782-series, and 8800
Contains 4-pin AC connector
#902-0185-0000
Our Price: $75.00
RUCKUS Spare Data Connector for T710-series, T300-series, 7782-series, 8800
Contains 1 weatherizing data cable gland
#902-0183-0000
Our Price: $60.00