RUCKUS ICX 7550-24 Switch

Mid-Range Access 24 Ports 1G Switch
CommScope RUCKUS Products
RUCKUS ICX 7550 24
RUCKUS ICX 7550-24
24-port 10/100/1000 Mbps, 2x 40Gbps QSFP+ dual-mode uplink/stacking ports, modular slot. Power supplies, fans and portmodules sold separately
#ICX7550-24
Our Price: $5,555.00
More pricing below, click here!
Overview:
Enterprise Stackable Switch Delivers Premium Capabilities and Ultimate Flexibility
The RUCKUS ICX 7450 switch delivers the performance, flexibility, and scalability required for enterprise Gigabit Ethernet (GbE) access deployment. It offers marketleading stacking density with up to 12 switches (576x 1 GbE and 144x 1/10 GbE ports) per stack and combines chassis-level performance with "pay as you grow" scalability of a stackable solution. The mid-market stackable switch is one of the first in its class to offer 40 GbE uplinks, enabling enterprises to dramatically increase their network capacity while using their existing optical wire infrastructure. In addition, the RUCKUS ICX 7450 is the industry's first stackable switching solution to leverage the advantages of site-to-site IPsec VPN security to ensure end-to-end data integrity without the need for dedicated encryption appliances.
The modular design of the switch provides three slots for scaling up to 12 1/10 GbE SFP/SFP+ ports, 12 10GBASE-T ports, or up to three 40 GbE QSFP+ ports for uplink or stacking. Organizations can initially deploy 1 GbE or 10 GbE uplink ports and easily upgrade to 40 GbE ports on-demand with a new, high-speed module. As a result, RUCKUS ICX 7450 delivers high performance across all ports for flawless support of latency-sensitive applications.
System-level high-availability features, such as dual hot-swappable, load-sharing, and redundant power supplies, and hot-swappable fan trays offer another level of availability for the campus wiring closet, all in a 1 RU form factor.
The switch is an ideal network solution for campus network 1 GbE and 2.5 GbE access or small aggregation deployment with 10 GbE or 40 GbE uplinks to the core. The switch is also suitable for a data center Top-of-Rack (ToR) solution, providing a mix of 1 GbE and 10 GbE server connectivity ports with 10 GbE or 40 GbE uplinks to the data center aggregation or core.
Deployed as a standalone switch, a stack, or a network fabric, organizations reap the benefits of a flexible platform and the assurance that their investments are protected.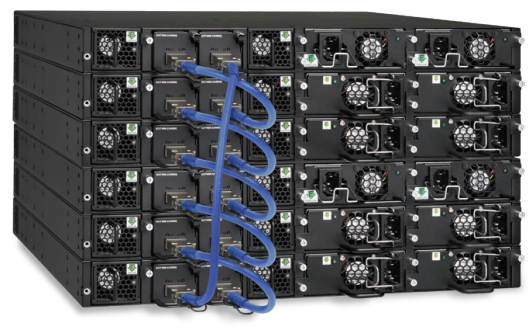 Figure 1: Up to 12 RUCKUS ICX 7450 switches can be stacked together using two full-duplex QSFP+ 40 Gbps ports that provide a fully redudant backplane with 960 Gbps of stacking bandwidth.
Full Power Support for Next-Generation Edge Devices
The RUCKUS ICX 7450 can deliver both power and data across network connections, providing a single-cable solution for the latest edge devices. In addition to supporting the Power over Ethernet (PoE/PoE+) standards, the switch also supports Power over HDBaseT (PoH). This high power standard delivers up to 90 watts per port through a standard Ethernet cable, simplifying the wiring of next-generation Ethernet-connected devices such as large HD displays, video surveillance equipment, and VDI thin terminals. The PoE/PoE+ and PoH capabilities reduce the number of required power receptacles and power adapters while increasing reliability and wiring flexibility. With a 1,500-watt PoE budget per switch (with two power supplies), the RUCKUS ICX 7450 24- and 48-port PoE models can supply up to Class 4 PoE+ power (30 watts) to every port and PoH power (90 watts) on eight dedicated ports.
Multigigabit Ethernet Support
Designed to handle next-generation 802.11ac Wave 2 wireless access points, the RUCKUS ICX 7450-32ZP switch offers 8×2.5 GbE ports to connect multi-gigabit wireless access points. Moreover, the switch's non-blocking architecture offers up to 240 Gbps of uplink bandwidth, ensuring smooth end-to-end traffic flow from the wireless edge to the core.
Integrated High-Performance IPSec Service
RUCKUS offers an industry-first stackable switching solution that delivers encryption from the wiring closet, providing a cost-effective way to ensure data security and integrity across the premises without needing to purchase dedicated encryption appliances.
The RUCKUS ICX 7450 switch with the integrated IPsec VPN service module consolidates network switching and encryption to provide unprecedented VPN deployment flexibility and cost savings. By initiating an IPsec tunnel from the switch for transporting selected traffic, organizations save the time and reduce the costs from having to install and manage encryption software on individual computers or deploy purposebuilt encryption appliances.
The RUCKUS ICX 7450 Service Module provides hardware-based acceleration for IPsec VPNs using Advanced Encryption Standards (AES). It leverages programmable hardware technology to future-proof data protection, enabling more capabilities to be added as business needs evolve.
EEE Power Savings
The RUCKUS ICX 7450 Switch supports the IEEE 802.3az standard for Energy Efficient Ethernet (EEE), reducing power consumption during periods of low utilization. Ports are placed into a low power mode when no data is being transmitted.
Data Center Top-of-Rack Switch
With class-leading 10 GbE and 40 GbE port count, the RUCKUS ICX 7450 is a great solution as a Top-of-Rack (ToR) switch in a mixed 1 GbE/10 GbE server connectivity environment. It is designed to fit in server racks, consuming only one rack unit and offering dual integrated power supplies and fan assemblies with front-to-back or back-to-front airflow for flexible cooling options. In data center environments where most servers have 1 GbE and some 10 GbE network interfaces, the 1RU switch provides a cost-effective 1 GbE/10 GbE ToR switch. In this configuration some of the 10 GbE or 40 GbE ports can be used to connect to the data center aggregation switches.
RUCKUS ICX 7450 Product Family
All RUCKUS ICX 7450 models offer three modular slots for interchangeable uplink/stacking modules (one in the front, two in the back), dual power supply slots, dual fan trays, one RJ-45 network management port, one mini USB serial management port, and one USB storage port on the front panel.


Figure 2: RUCKUS ICX 7450 rear view shown with two optional RUCKUS ICX7400-1X40GQ QSFP+ uplink/stacking modules, two AC power supplies, and two fan trays.
Pricing Notes:
Pricing and product availability subject to change without notice.
CommScope RUCKUS Products
RUCKUS ICX 7550 24
RUCKUS ICX 7550-24
24-port 10/100/1000 Mbps, 2x 40Gbps QSFP+ dual-mode uplink/stacking ports, modular slot. Power supplies, fans and portmodules sold separately
#ICX7550-24
Our Price: $5,555.00