RUCKUS Solutions - High Density

High-density solutions based on Wi-Fi are a key part of a HetNet deployment
These are amongst the most challenging locations to deploy a broadband wireless network because of the huge crowds in close proximity to each other and the near universal use of smartphones by today's fans. RUCKUS has been involved in stadium and arena deployments all over the world in the past few years. None have been more high-profile then our recent deployments down in Brazil at four stadiums ahead of the 2014 World Cup. The largest World Cup venue to receive a RUCKUS network was the 76,000 seat Maracana Stadium in Rio de Janeiro, which hosted the World Cup finals. The Maracana Stadium required 217 RUCKUS ZoneFlex access points.
Keys to successful stadium deployments include:
Use of vertical mounting assets whenever possible. Includes roofs, catwalks, and overhangs
Use of narrowbeam antennas that can narrowly focus RF energy into the crowds below
Integrated antennas for aesthetics and ease of mounting
A dense footprint of AP's, but not too dense (typically 100-200 as interference is your enemy)
Interference is always the limiting feature in a high-density stadium deployment
Concrete can be a big help as it absorbs RF energy, which can help shield AP's from each other
Best to limit the use of the unlicensed bands within the stadium to the extent possible; This is always easier said then done
5 Ghz band is a huge help in stadium deployments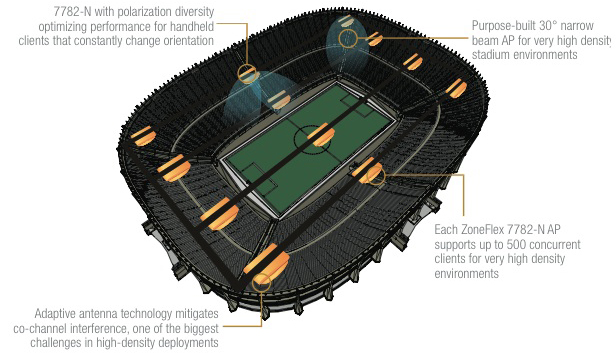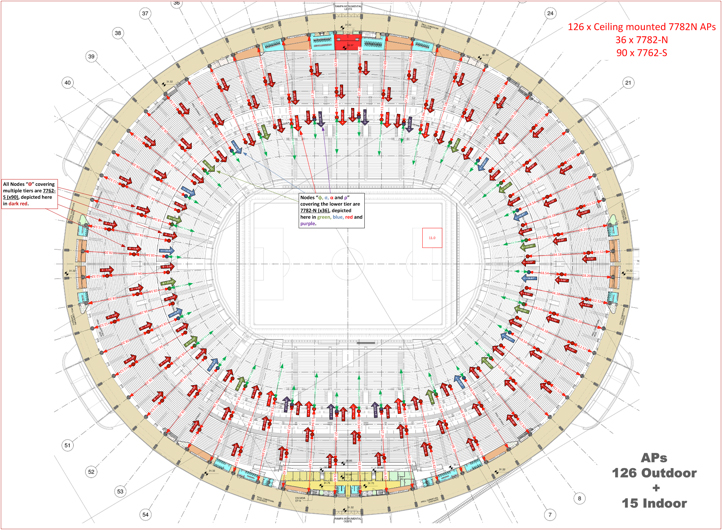 When designing for capacity all the rules must change:
Use a large number of very low power AP's deployed in very close proximity to each other.
Use higher frequencies as they don't propagate as well as lower frequencies. The unlicensed 5 GHz band is a great choice.
Line of sight is not desirable. You want obstacles, the more the better as the goal is to restrict RF propagation.
Interference is the limiting factor when designing for density
You can never have enough spectrum
Narrow beam directional antenna enabled APs are an absolute necessity. The narrower the beam the better.
RUCKUS has long been a leader in high-density Wi-Fi deployments. The cornerstone of our offerings has been our BeamFlex adaptive antenna technology which can focus RF energy at the user to increase gain and not at surrounding APs which will see this as interference. We are continuing to raise the bar in high-density networking with the announcement of the ZoneFlex 7782-N Access Point. It features an integrated 30° narrow beam antenna that operates in the 2.4 and 5 GHz bands. By integrating the antenna into the AP, the ZoneFlex 7782-N provides a very minimal form factor which is essential in many deployments.